Beauty > Beautiful Hair > Pigtails

What Are Pigtails?
There really isn't a huge debate on this subject, but there are some differences of opinion. This article looks at some of the differing opinions related to pigtails hairstyle definition, attempts to find some middle ground (perhaps unsuccessfully), and closes with this author's own definition and description of the ideal pigtails.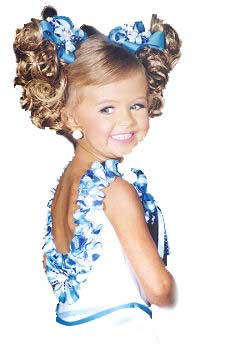 A ponytail is when the hair is tied together into a bunch and hanging from the back of the head. Most would agree on that. But if that ponytail is braided, is it still a ponytail? Some say it is, others say that this is called a braid. The same question applies to pigtails, the most common term for the gathering of the hair into twin ponytails (one on either side of the head). Can pigtails be braided and still be called pigtails? Do the terms "braided pigtails" and "unbraided pigtails" make sense? Some argue that "braided pigtails" are just "braids" and not pigtails at all!
The Random House College Dictionary defines "pigtail" as "a braid of hair hanging down the back of the head." Huh? It refers to ONE pigtail hangs down the back of the head, and calls it a braid? Hmm, there's no mention of TWO pigtails at all! Something doesn't seem right here. The dictionary entry for "ponytail" matches the definition I gave above. So what's up with all this? Is the dictionary wrong? Are there multiple dialectal or regional terms for twin ponytails, hence the difficulty for a dictionary to properly address the word's definition? Has the definition been too fluid over time for the dictionary to pin it down? And why doesn't the definition include the phrase "the cutest hairstyle ever?"
The word pigtail is also a wire cabling term that applies to a particular method for terminating an electrical cable's braided shield. (There's that word "braid" again!) Another technical, and even more contemporary, use of the word pigtail is for some sort of wireless accessories for radios or cell phones, or something like that - I haven't completely figured this one out yet.
A few years ago, a survey was done in a college classroom regarding the term pigtails. The students pretty much agreed that pigtails are two ponytails, one on each side of the head, and that they cannot be braided. If they were braided, they were called braids. The class instructor, being of a different generation, had a different definition. He believed that pigtails specifically meant two braids and that two unbraided ponytails should actually be called doggie tails. My personal analysis of this "experiment" is simply this: The instructor must have been elderly, or nearly so, and possibly losing his memory, so who knows what his generation really called "twin ponytails." And doggie tails? There is no way I could ever adapt to using such a term. The word dog, or anything like it, can never be used to describe a woman with the playfulness, boldness, and/or superior self-esteem to wear her hair in pigtails. The students clearly had a much better handle on what pigtails are all about.
So, where does this leave us? There appears to be generational differences and possibly regional or dialectal differences contributing to the debate (if you'd call it that). So, I'll put it this way: Pigtails are two gatherings of hair hanging on the left and right sides of the head. They may be braided or unbraided. But I'll add my preferences here as well, because the way I see it, there's one right kind of pigtail. Pigtails are far more attractive when unbraided. They should be located on the sides of the head, maybe a little behind and above the ears. Pigtails that are too high on the head, too low, or too far around in back, just don't possess the true spirit of pigtails. And pigtails without this true spirit are simply unable to work their undeniable magic on the wearer and those around her.
Attraction of Pigtails - pigtails hairstyle Attractions.....