Beauty > Beautiful Hair

Hair Care Tips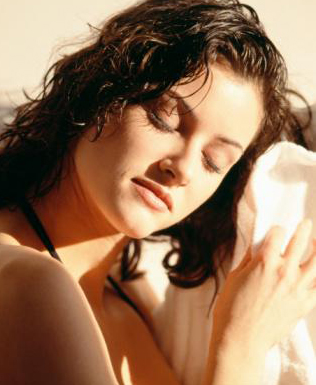 Taking care of hair is in fact much the same as taking care of skin.An effective hair care discipline involves cleansing, toning and conditioning routines carried out with religious regularity.
Shampooing
Take warm or cool water and saturate your hair and scalp. Apply the shampoo to the hair by first pouring it into your hand and never directly. Apply with the hands and fingers, massage firmly in rotating and circular movements. Massage the whole head. Do massage of your scalp with finger balls gently in all the areas of your head. If your scalp is oily then repeat the process 2 to 3 times. Finally rinse all shampoo from the hair and scalp with clean water. Make sure that the dirt and shampoo has been removed from hair and scalp.
Conditioning
1 cup Henna powder
½ cup Yogurt
1 tspn Coffee powder
1 Egg

Mix all these together. Keep in an iron pot or vessel overnight. Apply enerously and leave for 1 hour. Wash well.
Egg white beaten well. This is added to a mug of water. Wait for 5 minutes and rinse again with fresh water.
Hair problems - Hair problems and treatments.....
Splitting Hairs - What Can You Do About Split Ends.
Hair Loss - Tips for hair loss
Healthy Hair - Effective way to get healthy hair.....
Hair growing - Hair growing tips.....
Blow drying - Blow drying tips.....
Hair shine - How to make hair shine.....
Hot oil - Hot oil hair treatment.....
Grey hair - Causes and treatments.....
Hair color tips - Tips of hair coloring.....
Natural hair spray - How to make natural hairspray.....
Pigtails - What Are Pigtails?.....
Hair extention - What are Hair Extensions?.....
hair straightrning - Japanese hair straightrning..
Top ten tips - Top 10 Tips for Great Wedding Day Hair..
New Hair Style - Hair Styles Cuts And Dos Review:..
Shiny hair - The Secret to Shiny Hair..
Hair iron - Tips on Using a Hair Iron.
Hair Co-wash - How to Co-Wash Natural Black Hair.
Hair recipes - Natural Hair - Get Creative With Homemade Recipes.
Home Hair Color - At-home Hair Color-Seven Tips for Great Results......
Water for hair beautiful - Using Water to Make Your Hair Beautiful......
Avocado - How to Use Avocado as Your Hair Care Product
Hair care correctly - Have You Done Your Hair Care Correctly?
Cancer shampoo - Cancer in Your Shampoo?
Crowning glory - For Your crowning glory
Henna - Advance of henna treatment.....